3LW
[Naturi, Kiely & Adrienne]
Busted on the scene in 2000 with their hit "No More (Baby, I'mma Do Right)" and had a bright future. But inner disputes caused them (the boricua and the pretty girl: Adrienne & Kiely) to kick the dark one (Naturi) out the group and it was never the same. They were then a duo for a while then tried adding a replacement girl (Jessica) to the group but that flopped.

That was until Adrienne Bailon & Kiley Williams joined the Cheetah Girls...which had its run and fair share in Teen/Toon Disney's limelight but now has ran its coarse and has now ended.
Leaves me with this...

Where's 3LW now?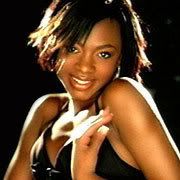 Naturi is acting.
First featured film she played Lil Kim in Notorious



Relationship-wise, Adrienne is with Rob Kardashian & has just signed a deal with none other than Def Jam Records! Yeah boys so I'm expecting big things from her!



Kiely, pretty green eyed Kiely...
well she well be in 2 movies and planning on making a talk show w/ fellow Cheetah Sabrina Bryant geared towards young ppl,
So, I know Im looking forward to that