So Thursday (July 2, 2009)
Mom & I are coming home from picking me up form work.
As were arriving home we see something pretty big on the wall by the porch light?
(now if we can see
it
from pulling into the driveway
its
pretty big)
So were in the car saying "its a rutabaga," and some other stuff just playing around. I get out the car to see what it is cuz regardless, I have to open the door to get into the house.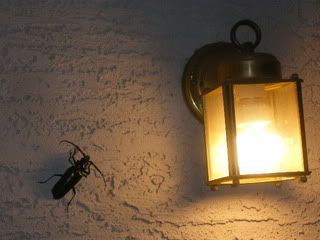 I approach to see what it is - its a
GIGANTIC BLACK ASS BUG
its like the size of my 2 fingers (and i got big long fingers)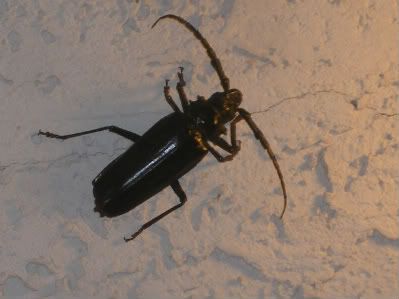 its a
BIG ASS
BEETLE and that's all I know
Long black antennas, 6 long legs, wings for days, a sharp pincer & put the
fear of idk
what in me. TERROR was what cam over me...
Lord knows black ppl & bugs don't mix.
[And if you dont know I AM AFRAID OF BUGS]
It was "larger than LIFE," I have no idea where it came from? why it was there? NADA, but it scared the SH!T outta me.
So if there are any
entomologists
out there,
please enlighten me about the bug that greeted me at the door.
Frightfully yours,
Mikeman