Every first Friday...
Downtown Phoenix, AZ hosts an event; FIRST FRIDAY.
First Friday is organized by Artlink, a nonprofit organization "...dedicated to bringing together artists, the public, and businesses for a greater understanding, appreciation, and promotion of the arts and the development of a strong and vital downtown Phoenix arts community."
It's a like a great big block party of the arts; one big cultural event where you tour & check out downtown PHX, valley artists can show their artwork for sale, musicians can preform, crafts, clothes, food is sold, all types of music is played...
quick mugshot snapshot of who I went with



We got split up so many times walking downtown
[Thank God for cellphones]
So many vendors selling goods of all sorts of thangs.
its was like a swapmeet of arts & talent.
Definitely great to witness and be a part of something like this.

There were plenty of music playing
whether it be a band preforming or just a DJ in the mix

DJ was playing some old school hip-hop & mixing it wit electro
kid did his thang in this hip-hop circle



mini rave over here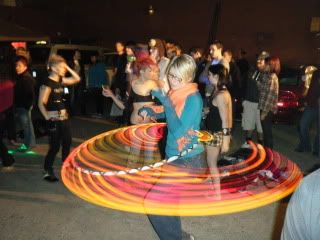 NOW with as many types and forms of artwork there was this was my favorite.

best piece of art



Well that was my first lil taste of First Fridays
First Friday for more infomation
best eye opening experience I've had in the while
so if your Phoenix,
Check it out some first Friday

Mikeman