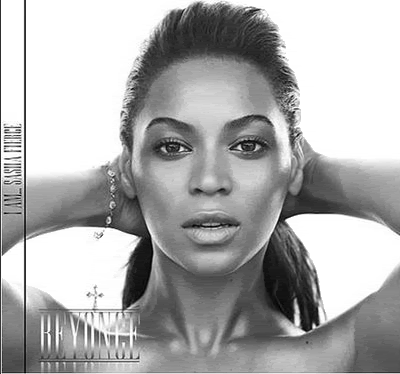 Beyonce's "I Am...Sasha Fierce" is ONE amazing album!
[IF u haven't gotten this album, COP IT!]
Bey surely will be going down in history for bearing her soul and for not being so humble and showing the world why she's a diva on this album. I mean she definetly took it even further on this album on exposing her true self and officially introducing her stage persona, Sasha Fiece in a (
real
) double disc album. The
"I AM..."
side is more personal, heartfelt, filled with the ballads & slow songs and in a truly vulnerable state that truly reaches out as she sings her heard out and is felt from song 1 to 8 (on the deluxe edition haha). While the
"Sasha Fierce"
side is more of what ppl expect of her the smash hits, the banging beats, uptempo, jockable lyrics & dances, etc. This side is the one most ppl appeal to considering this is the Beyonce most are used to. But knowing Bey she defineltly UP'd her game my introducing us to Sasha Fierce (her alter ego) full of attitude, looking right from hair to heels and that sick
titanium glove
[the sickness!]. Despite
"Sasha Fierce"
being the more...who do i say "liked, accepted by the masses...if you will disc"
"I AM..."
is my favorite side of this double disc album and ill explain why in a quick track review....
tracklisting
I AM...
I.
IF I WERE A BOY
II.
HALO
III.
DISAPPEAR
IV.
BROKEN-HEARTED GIRL
V.
AVE MARIA
VI.
SMASH INTO YOU
VII.
SATELLITES
VIII.
THAT'S WHY YOU'RE BEAUTIFUL
...SASHA FIERCE
I.
SINGLE LADIES (PUT A RING ON IT)
II.
RADIO
III.
DIVA
IV.
SWEET DREAMS
V.
VIDEO PHONE
VI.
HELLO
VII.
EGO
VIII.
SCARED OF LONELY
favs
IF I WERE A BOY
at first before i heard if had me thinking i hope this isnt no Ciara "like a boy" stuff cuz i expect better from BEY. Glad it wasnt and it delieved and enough so to take a look at yourself as a man avoid those mistakes in the lyrics.
HALO
so strong, powerful, celestrial, heavanly and meaningful. This happens to be my favorite song on the album! its just to beautiful! like i was blown away by how beautifully the song was sung. Goosebumps ppl thats how amazing it is.
AVE MARIA
is a song for the lost, very old sounding. perfect especially when she calls out Ave Maria.
SMASH INTO YOU
is my other fav & def how i want my love. This song is like at least to me freeing and hopeful.
THAT'S WHY YOU'RE BEAUTIFUL
is acoustic, acoustic ppl that takes skill cuz all the focus is on you carrying the song & she does full of emotion ---
SINGLE LADIES (PUT A RING ON IT)
sure had me going like gahh! [BEY's bt DREAMGIRL incase ya didnt know] the video is simplictic black & white and 2 backup dancers shaking it. But man was it hot and immitated all throughout Youtube haha. The is true and should have men taking real notice of women. If you dont know by now u will get left then.
RADIO
delivered its my jam cuz i feel the same way :)
DIVA
damn right she is and is about time she stood up to the name. This song is the female version of A MILLI and is straigt hotness.
SWEET DREAMS
would still have to be 2 favorite. It leak over the summer and was remastered for the album but man this is still and will forever be on of my favorite songs ever!
EGO
was truly scared of the song before i heard it cuz she doesnt have one but nevermind she desevres hers and all that is hers. Check the song for confrimation.
that concludes my music review of "I AM...SASHA FIERCE"
I CANT RATE this album cuz im infatuated with the artist clouding my judgement but im telling you its great and you wont be disappointed. She's to good to be disappointed by this 2008 double disc bringing you the heart & soul and Sasha Fierce of Miss Beyonce Knowles