My girl,
RIHANNA
, the super famous megastar [singer & model] from Barbados really brought tha flava of tha islands to the US in 2005 with her hit
"Pon De Replay"
and ever since then has been cranking them hits. But she wasn't always a superstar it was a slow & steady rise to superstardom but with the help of
Jay-Z
& lyrics from
The Dream
the smash hit
"UMBRELLA"
made her a bonafide star! & the rest is history!
[But back to her being from the Caribbean]
Reggae/Dancehall and any other artists coming from the West Indies all have a hard time making it in the US. And the music industry there in the Caribbean isnt all that booming and expanding as it is here in the US. For example [they may use the same "riddims" or beats for 3 different song by 3 different & your smash hit is basically it for you-end of career/cant beat songs success]. So when anyone out the Caribbean makes it big in the US you sho' as hell give back! &
RihRih
has definetly done that on her first 2 albums...giving a helping hand to her fellow artist by putting them on her albums (& on the map for success) by just showcasing the talent the Caribbean has to offer.
So here's a lil bit of what the Caribbean Connection or West Indian Hook Up had done...
From Rihanna's song "Rush" from her first album Music of The Sun she featured KARDINAL OFFISHALL


Kardinal Offishall is from Ontario, Canada of Jamaican descent. He mixes a reggae & dancehall style of hip-hop and has dropped 4 albums so far. He also, has been one of the biggest hip-hop rapper on the Canadian & International rap scene.
Song: Dangerous feat AKON



Album NOT 4 SALE in stores NOW

An unreleased song from Music of The Sun called "the Hotness" featured SHONTELLE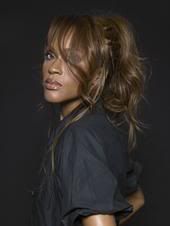 Also from Barbados, Shontelle the singer/songwriter/rapper was originally in school to be a lawyer but followed her heart and went to became a singer. She wrote the hit "Roll It Gal" for dancehall artist, Allison Hinds but was remastered and sold to J-Status which featured Shontelle & Rihanna in their song "Roll It". ***hot song by the way*** Anyways word is she's said to be like the new Rihanna...
Song: "T-Shirt"



Album SHONTELLIGENCE in stores NOW

Lastly, she has done any work with Rihanna but I believe has shown the light for her to be discoved by Akom as Kardinal Offishall has...is TAMI CHYNN


My fav of the three and fav artist [next to Rihanna] from the Caribbean is the Jamaican born, Tami Chynn. She's a singer/dancer/songerwriter and mixxed like a mutt [Afro-Jamaican/British/Chinese] and has be grindin' hard to make it big for a few years now. She's dropped an Out Of Many...One wit a song hot like fiya "Hyperventilating" back in '06. Now she is signed to Konvict Record and with her first single "Frozen"! Be on the lookout fi dis one! I sho will be!



Album PRIMA DONNA out in 2009
staying true to di roots,
Mikeman