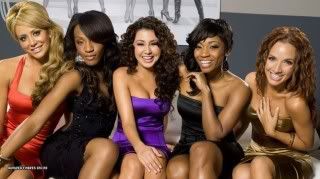 So hopefully were all up to date on my lovelys...but incase were NOT!
Dumbass & etc
DIDDY fired
Aubrey & D. Woods
of Danity Kane! leaving
Shannon, Drea & Dawn
left in the group...despite the rumors of Shannon leaving.
Now that were up today..this is how the members [in and out of the group stand]
Shannon, Dawn & Aundrea
have been spotted hosting parties and doing a couple shows since the departure of "Ebony & Ivory" and are/were reported to of been recording for their 3rd studio album set to release in 2009 [no actual release date].
No word on
D. Woods
Miss O'Day
is another story. Rumors of her and 50 CENT has spawned, she's vactioned with Russel Simmons topless on yatch somewhere adn to top it off she photgraphed NUDE for PLAYBOY!
Despite all of
Aubrey's
ways....that 3rd DK album is said to have all 5 girls on it,
YES! All 5 [Shannon, Drea, Dawn, Auberella & D. Woods] are supposed to be on the album.
so ill keep up all posted on any & all DK news
5x the happy,
Mikeman