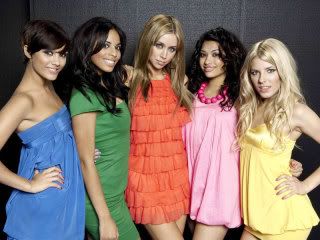 Well here's
THE SATURDAYS
They're my
new pop UK sensation!
Boy, do I fancy them!
The Saturdays
[Frankie, Rochelle, Una, Vanessa & Mollie]
A 5 piece
Pop, Electropop, Dance-pop
girl group hailing from the UK & taking the British airways by storm! And it just so happened that they caught me by storm too... They're my new musical fixation satisfying my addiction for UK music
(cuz as we all know im a sucka for UK music...just in case ya didnt know). They're cute, have great voices, a typical great color coordinated girl group style.
Plus, their debut album.... I WANT!
The Saturdays
Chasing Lights
The GIRLS are all very charming. Una is from Ireland is one of the 2 lead vocalist with an amazing voice and these amazing blue eyes w/ her red/brunette hair...its a good look. Frankie has the short hair and was previously in S Club 8 as a child. Dont really have much a feel for this girl but it wouldnt be the same without her. Mollie the blonde had competted in X-Factor as a fan favourite and was previously in a girl group by the name of Fallen Angelz brings a sweet innocent appeal & sound to the group. Now Vanessa is mixxxed: Philippino & English known by the group as their "Christina Aguilera" cuz the girl got her some pipes! My second fav of the group & Lastly, my fav, my sexy English chocolate, Rochelle. Obviously of English & either Caribbean or African descent was also previously in S Club 8 as a child and just brings the statuous model look & voice to the group.
Their SONGS are awesone! Their 1st single
"If This Is Love"
showcased a bit of all the girls voices & a pretty neat dance beat that makes that noggin'-a-boppin'. The video was crazy colorful and had thier signature "album cover pose" on it as they flaunt & strut all throughtout the video///Their 2nd single
"Up"
is my shit! The girl can really sing!!!! and the video is genious & so colorful...U just have to see it to believe me///3rd single
"Issues"
is surprisingly deeper than you'd expect from a pop group and is still a great song about a relationship
The Saturdays - Up

This was
The Saturdays
Hope you'll enjoyed them as much as I do.
So ready for The Saturdays,
Mikeman