Wow!
So at first I thought my Bday was gonna
suck
cuz I
had
to got to school today (unlike in high school where you had the option of it) & I worked. So I gave up on having a good Bday!
But I dont give up that easily. I was giddy all day despite the circumstances. I was
fresh to def
& in good spirits...virtually unbreakable! like I was in a rare perfect form of pure bliss/Anyway tho it was my Birthday the downside of it as stated before was school, work & the walk home, and bus ride home. MAJOR BUMMER!
So for dinner my parents decided to take me to
Joe's Crab Shack
(cuz i love seafood) and man did my day shape up from there....We went thru the normal dinner prodecures:
-ordered drinks
-ordered appitizer (Calamari cuz it twas my birthday)
-figuring out to order
-order meal
-wait
-eat
of coarse we talked to and had a great time cuz thats just how we roll [my mom, bro & I] Going to a new restaurant was fun too. Oh and the waiter had the most hilarious shirts like...
"My Waiter Gave Me CRABS"
or
"BITE ME"
& things to that effect
The dinner was awesome I had crab legs, 3 different skrimps haha & rice. It was bomb! but as all birthdays go they always slip in to the waiter/waitress its your birthday! & my mom definetly did!
&& man did they get me.
They sang me HAPPY BIRTHDAY and everything they were to say "YOU" I was to say "MY CRABS ARE ON FIRE!" The most hilarious thing ever. Im turing 19 and infront of the whole restaurant i have to say my crabs are on fire....it was just to funny & at the end of the song I had to finish it off with BIG OLE YELL of
"My Crabs are on FIRE!"
Oh yeah! while this was happening i was holding a crab
[thanks God it wasnt live], a firefighter hat and a bib!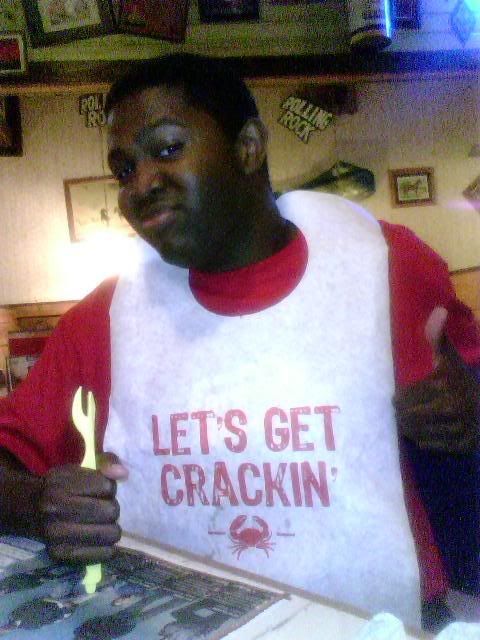 [Let's Get CRACKIN']
One memorable BDAY
NO MY CRABS AREN'T ON FIRE!
19 yo
Mikeman