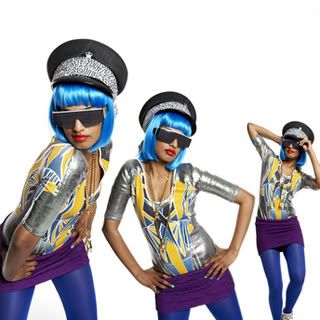 Now M.I.A. has been one of my favorite rappers even before the hype of Pineapple Express. And as happy I am for her success I'm not cuz now she's all mainstream and everyone now is all "OMG! I love Paperplanes. It's my song!" or how its now on everyones myspace & etc
I feel like she was my lil underground Sri Lankan UK rapper. NOT yours! She's my rap/hip-hop/dancehall/electro/african/club genre'd artist...not for the public. & Her style is ridiculous from blue wigs to some diamond shades [that if i was anyone where theyd get jack] and everything in between. She's just a real unique artist and I mean I get her & her songs & what she's about and love her for it because she's unbelieveably political and most ppl don't even notice......Yet cuz "Paperplane"s had a couple gun shots ppl love it?!!
Oh! & now its not even ppl loving...rapper are all on her jock!
&& there are like SO MANY remixes of "Paperplanes" its not even funny....
Artists like 50 Cent, Lil Wayne, Bun B, Rich Boy, T.I. & (others im sure of)
Its just aggrevates me how they all hoped on the M.I.A. bandwagon when I've been there for her from the very start.
I even bout both of her albums Arular & Kala
But it is what it is
just know

& No one on the corner has swagga like us,
Mikeman